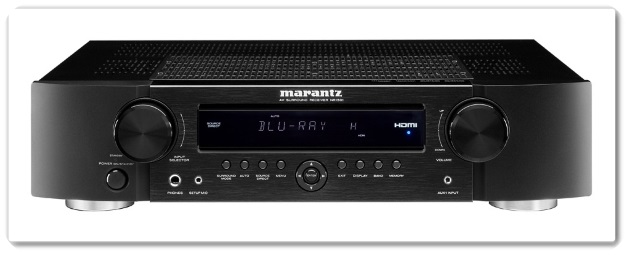 D-Bus
To optimize equipment in terms of ease of use, Marantz has designed the D-Bus system. Received remote control commands are communicated via this bus. This enables equipment without IR-receiver like tuners or hidden system together with an external IR eye to be controlled via the bypacked Marantz System Remote Controller.
Deep Color™
Deep Color™ lets HDTVs and other displays go from millions of colours to billions of colours allowing consumers to enjoy unprecedented vividness and accuracy of colour on their displays. Deep Color™ eliminates on-screen colour banding, for smooth tonal transitions and subtle gradations between colours. It enables increased contrast ratio, and can represent many times more shades of gray between black and white.
Dolby True HD
Dolby TrueHD is Dolby's next-generation lossless technology developed for high-definition audio coding. Dolby TrueHD supports up to eight full-range channels, allowing the audio engineer to position sounds for a more realistic effect than ever before. Dolby TrueHD is supported by HDMI™, the single-cable digital connection for high-definition audio and video. Dolby TrueHD will be transmitted via HDMI 1.3a and is compatible with HDMI 1.1 as an outputted HD 7.1 PCM multichannel signal. See 'HD - 7.1 PCM Multichannel'
DTS-HD Master Audio
DTS-HD Master Audio is an optional High Definition Audio format for all Blu-ray Disc™ products. DTS-HD Master Audio format allows a bit-to-bit representation of the original movie's studio master soundtrack and delivers audio at high constant bit rates superior to standard DVDs.
HDMI 4in 1out
HDMI combines high-definition video and superb audio in a single digital interface with a bandwidth of up to 10 Gigabits/ second. HDMI complies with High-bandwidth Digital Content Protection (HDCP) technology protecting high-value content from unauthorized reproduction and distribution. HDMI is the only interface in consumer electronics that can carry both high-definition video and multi-channel audio e.g. Dolby Digital and DTS in all HD formats, including 720p, 1080i and 1080p. With only a single cable connection all information can be digitally transmitted. The latest HDMI1.3 supports higher resolution audio formats as Dolby Digital Plus, Dolby TrueHD and DTS-HD and a higher bandwidth for higher framerates and extended degradation in colour space.
Marantz Room Acoustic Calibration (MRAC)
Taking into account reflections from walls, ceiling and floor and our knowledge about psycho-acoustics, MRAC optimizes the sound for the room acoustics. With a supplied microphone placed on your listening position, a powerful DSP analyzes accurately and sets the sound configuration for your listening room fully automatically. MRAC can test and controls speaker configuration, speaker size, trim and distance/delay. All for best sound and easy set-up.
Pre-programmed system remote
Remote capable to control the amplifier or receiver as well as connected source products from Marantz. Furhter it is preprogrammed to control products from other brands as well. To activate you will find a number code in the user manual which needs to be put in the remote.
Video Conversion
Analogue video signals feed to the AV Receiver in Composite, S-Video or Component format will be up- or down-converted to the monitor video output of another format. This feature allows you to connect several sources to an AV Receiver and run only one cable to the TV set. Please check specification area for details on conversion direction.


Teknik ve kozmetik olarak en küçük kusuru yoktur,
%100 orijinaldir,

orijinal manueli ve uzaktan kumandası ile gönderilecektir,
mağazamızda dinleyebilirsiniz.

Tüm Türkiye,ye YURTİÇİ KARGO ile
(Tarafımızdan profesyonelce paketlenip)
%30 indirimli-sigortalı gönderi yapılır.

Shipping (Fedex) is done worldwide. Please ask shipping costs.
EXCHANGE : YES


TAKAS : EVET
Keyifli alışverişler dileriz
Please click our Logo for our other ads.
Diğer ilanlarımız için logoyu tıklayınız