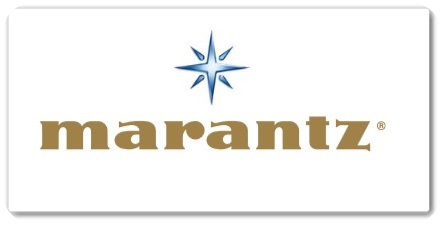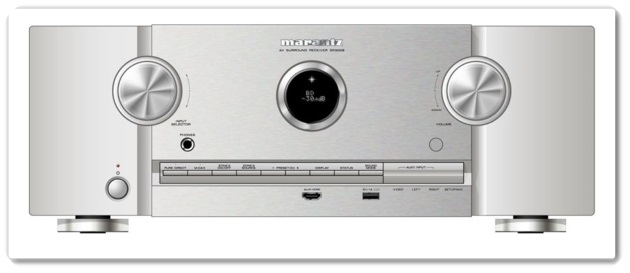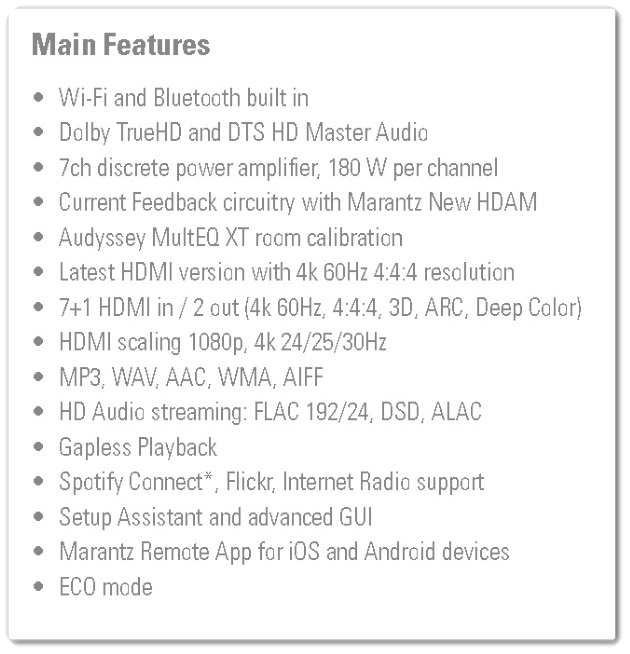 The latest current feedback topology and Marantz own and improved New HDAM are central elements of the new seven-channel SR5009. These technologies guarantee both power and detail in your surround sound experience. Bluetooth and WiFi are built-in so you can enjoy your digital files wherever they are stored. In addition, it provides networking DLNA 1.5 facilities for DSD & AIFF and Gapless HD audio streaming, Internet radio, Spotify Connect and AirPlay. It includes decoders for standard audio as well as for Dolby TrueHD and DTS-HD Master Audio.

The SR5009 comes with no less than eight HDMI inputs of which one is on the front, and two outputs – making it immediately ready for 3D and even 4k 60Hz UHD resolution supporting 4:4:4 Pure Color. It easily handles the most demanding of scenes in action films, as well as offering excellent-quality music playback - thanks to the latest Marantz audio technologies and 180W from the seven amplifiers. Everything sounds clear, detailed, and alive with this set. As with many of this year's models the SR5009 includes a smart ECO mode. To finish off, the SR5009 comes with a whole range of convenience features such as: Setup Assistant, auto calibration with Audyssey MultiEQ XT and Dynamic Volume Control; four Smart Select buttons, Multi-Room with multi-source flexibility; and "video-off" mode to ensure that you enjoy your music and movies in true dynamic Marantz style. It also has the specially developed Marantz Remote App for smartphone and tablet. All of which makes the SR5009 a true combination of style, power and ease.
3D ready
3D stands for 3 dimensional. Products carrying the 3D logo are able to output or path through the digital 3D video signal.
Audyssey Dynamic Volume
Your Listening experience can be greatly diminished when there are significant shifts in volume between television programs, commercials and within the program material itself. When this happens you must constantly adjust the volume to maintain your desired listening level. Audyssey Dynamic Volume monitors the volume of program material moment-bymoment and automatically adjusts it, maintaining the desired listening level for all content while optimizing the dynamic range to preserve impact.
Dolby True HD
Dolby TrueHD is Dolby's next-generation lossless technology developed for high-definition audio coding. Dolby TrueHD supports up to eight full-range channels, allowing the audio engineer to position sounds for a more realistic effect than ever before. Dolby TrueHD is supported by HDMI™, the single-cable digital connection for high-definition audio and video. Dolby TrueHD will be transmitted via HDMI 1.3a and is compatible with HDMI 1.1 as an outputted HD 7.1 PCM multichannel signal. See 'HD - 7.1 PCM Multichannel'
DTS-HD Master Audio
DTS-HD Master Audio is an optional High Definition Audio format for all Blu-ray Disc™ products. DTS-HD Master Audio format allows a bit-to-bit representation of the original movie's studio master soundtrack and delivers audio at high constant bit rates superior to standard DVDs.
Made for iPhone / Made for iPod
'Made for iPod' and "Made for iPhone" means that an electronic accessory has been designed specifically to connect to iPod and has been certified to meet the Apple performance standards. Current Marantz products carrying the 'Made for iPod' logo are compatible with the following iPod models: 5th Generation iPod or higher, iPod Classic, iPod Nano (1st, 2nd, 3rd and 4th generation), iPod video and iPod Touch. For 5th Generation iPod, iPod Nano or iPod Touch the audio transmission is digital. 'Made for iPhone' adds the iPhone compatibility to this list.


Resmi (Distribütör-extreme audio) garantili,
sıfır, kapalı kutu, adınıza faturalı.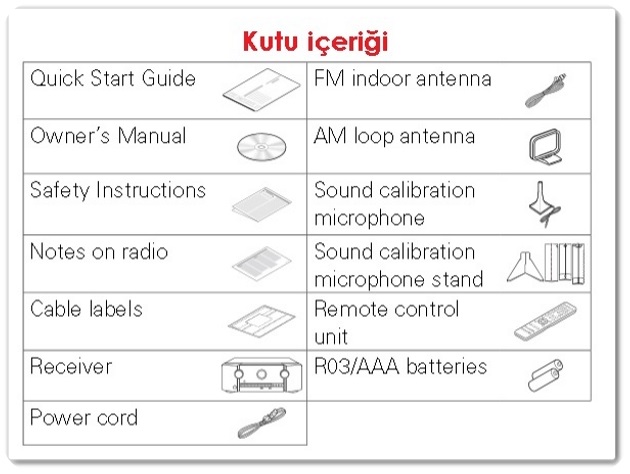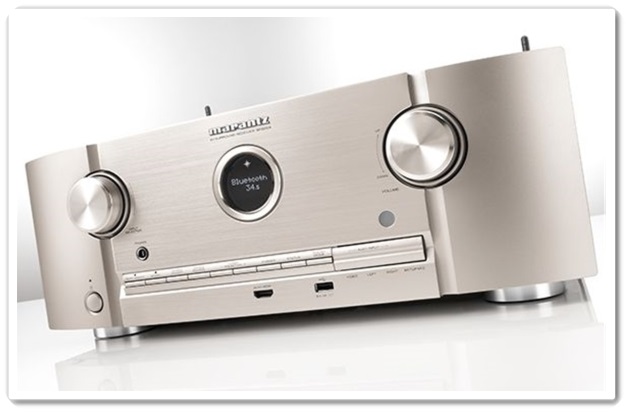 Shipping (Fedex) is done worldwide. Please ask shipping costs. 

Keyifli alışverişler dileriz
Please click our Logo for our other ads.
Diğer ilanlarımız için logoyu tıklayınız