THX Ultra2 Plus Certified 7.1-Channel A/V Home Network Receiver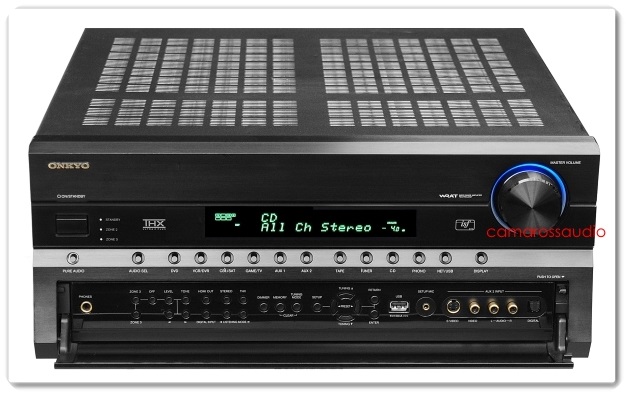 A Natural Leader of the Pack, by Any Standard You Choose
Multi-dimensional, superbly crafted, and loaded with impressive specs, the TX-NR906 A/V home network receiver is a true champion for the age.With seemingly endless abilities—including HQV Reon-VX video processing, dual high-def HDMI outputs,Audyssey room correction technologies, and multi-room audio and video distribution—the TX-NR906 leaves no base uncovered. Built around an isolated power block and pre-processing unit, this network receiver reveals the full potential of virtually any media.This includes any internet- or computer-based sources accessed via its network apparatus (which incorporates a new vTuner interface and Certified for Windows Vista® status).The TX-NR906 is the first receiver of its kind to include ISF (Imaging Science Foundation) video calibration, further enhancing its groundbreaking pedigree.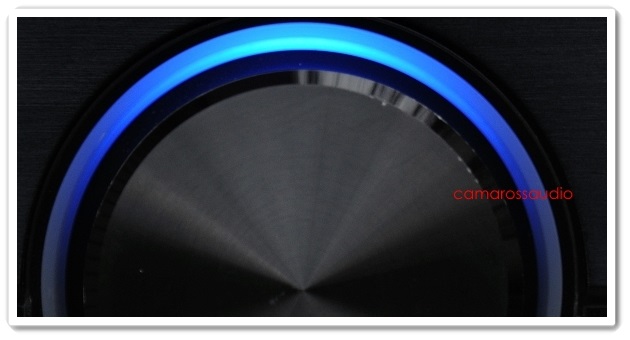 ADVANCED FEATURES
THX Ultra2 Plus Certified
Network Capability for Streaming Audio Files and Internet Radio (with vTuner Portal)
DTS-HD Master Audio™, DTS-HD High Resolution Audio™, Dolby® TrueHD, Dolby® Digital Plus Decoding
HDMI™ (Version 1.3a to Support Deep Color™, x.v.Color™, LipSync, Dolby TrueHD, DTS-HD Master Audio, DVD-Audio, Super Audio CD)
HDMI Video Upscaling (Up to 1080p) with HQV Reon-VX
HDMI Audio and Video Processing (4 Inputs and 2 Outputs [Main/Sub])
Component Video Upscaling (Up to 1080i)
Parallel Push-Pull Amplification Design with Three-Stage Inverted Darlington Circuitry
Massive Toroidal Transformer and Two Separate Transformers for Audio and Video Processing
Burr-Brown 192 kHz/24-Bit Audio DACs (PCM1796) for All Channels
Three TI (Aureus™) 32-Bit DSP Chips for Advanced Processing
Bi-Amping and BTL (Bridged Transless) Capability for Music and Movie Sound Effects
Audyssey MultEQ™ XT to Correct Room Acoustic Problems and to Calibrate Speakers
Audyssey Dynamic EQ™ for Loudness Correction
Audyssey Dynamic Volume™ for Optimal Listening Level and Dynamic Range
VLSC (Vector Linear Shaping Circuitry) for All Channels
Powered Zone 2 (Audio and Video); Zone 2 and Zone 3 Pre Outs; Independent Control for Volume, Balance (Zone 2 and Zone 3) and Bass/Treble (Zone 2 Only)
ISF (Imaging Science Foundation) Video Calibration Function
RIHD (Remote Interactive Over HDMI) for System Control
Compatible with RI (Remote Interactive) Dock for the iPod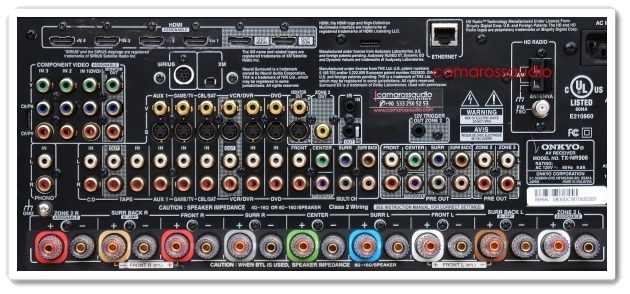 AUDIO & VIDEO FEATURES
220 W/Ch Minimum into 6 Ω, 1 kHz, IEC (1 Channel Driven)
DTS-ES™ Discrete/Matrix, DTS Neo:6®, DTS 96/24™, Dolby® Digital EX™, Dolby® Pro Logic® IIx Decoding
WRAT (Wide Range Amplifier Technology)
Certified for Windows Vista®
USB Port for a USB Mass Storage Device (Audio Only)
Component Video Switching (3 Inputs and 1 Output)
6 Digital Inputs (3 Optical, 3 Coaxial) and 1 Optical Output
A-Form Listening Mode Memory
Linear Optimum Gain Volume Circuitry
Non-Scaling Configuration
Tone Control (Bass/Treble) for All Channels
Color-Coded 7.1-Multichannel Inputs and Pre Outs
Independent Crossover Adjustment for F/C/S/SB (40/50/60/70/80/90/100/120/150/200 Hz)
Double Bass Function
6 S-Video Inputs and 2 Outputs
6 Composite Video Inputs and 2 Outputs
Front Panel Auxiliary Input (for Camcorders, Game Consoles, etc.)

OTHER FEATURES
Music Optimizer to Support Compressed Digital Music Files
Theater-Dimensional Virtual Surround Function
Newly Designed GUI for System Set-up
Neural-THX® Surround Decoder
Network Capability for Installing Crestron and AMX Controllers
Customized, Gold-Plated Speaker Posts
Gold-Plated A/V Inputs and Outputs
Speaker A/B Configuration
Pure Audio Mode
A/V Synchronization Function (Up to 250 ms in 5 ms Steps)
40 FM/AM Radio Presets with RDS
RS232 Port
IR Input and Output
12V Trigger
6 A/V Inputs and 1 Output
2 Audio Inputs and 1 Output
Phono Input
Direct Mode
IntelliVolume
Late Night Mode
Headphone Jack
Aluminum Front Panel
Preprogrammed RI (Remote Interactive) Learning Remote Control with Macros and Mode-Key LEDs

Dijital radyo daha temiz sinyal ve aynı spektrumda yayınlanan sinyallerin daha az bozularak alıcıya ulaşmasına olanak tanıyor. Analog yayına göre daha az sinyal alanı kaplayan HD Radio bazı ülkelerde DAB Radio adını almıştır.

yakın zamanda ülkemizde yayına başlayacak olan HD Radio ABD versiyonlarında entegre olarak gelmektedir. Digital yayın yapan radyo kanallarını LNB'den çıkan Coaxial kablo ile TX-NR906(U.S.A) versiyonunda dinleyebilirsiniz.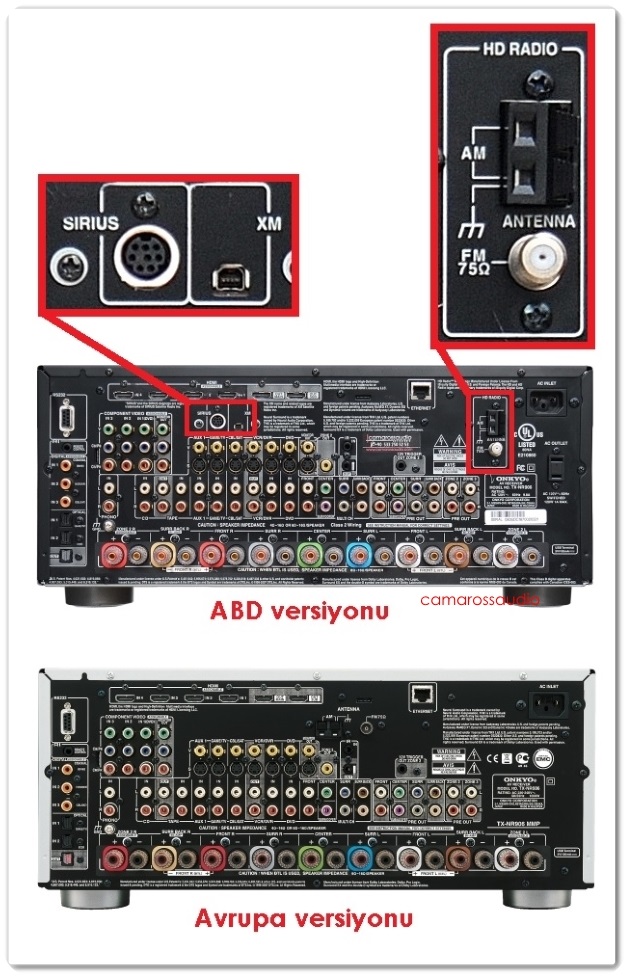 Teknik ve kozmetik olarak en küçük kusuru yoktur,
%100 orijinaldir,
cihaz ABD versiyonudur,
(ABD versiyonunun dışarıdan görülen artıları yukarıda ki fotoğrafta işaretlenmiştir, bunların dışında yapısal farklılıklarda vardır)

110-220v çeviricisi, orijinal uzaktan kumandası, kalibrasyon mikrofonu ve power kablosu ile birlikte gönderilecektir,
mağazamızda dinleyebilirsiniz.
TAKAS : EVET
Tüm Türkiye,ye YURTİÇİ KARGO ile
(Tarafımızdan profesyonelce paketlenip)
%30 indirimli-sigortalı gönderi yapılır.


Photograps used in this ad are current and
reflect actual condition of the devices, they are not cited.
Shipping (Fedex) is done worldwide. Please ask shipping costs.
EXCHANGE : YES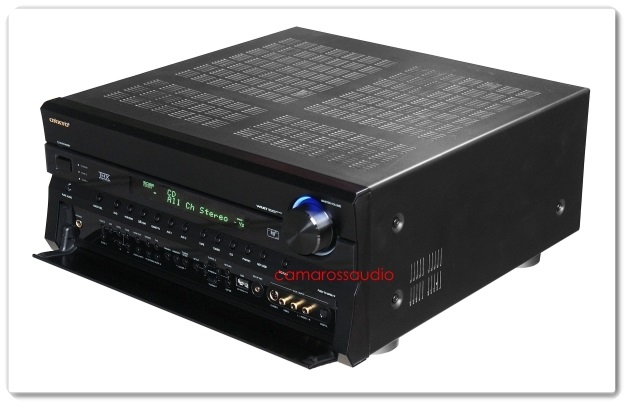 İlanda kullanılan fotograflar cihazın kendi güncel fotograflarıdır, alıntı değildir.

Keyifli alışverişler dileriz
Please click our Logo for our other ads.