RX-V863 7.1-Channel Digital Home Theater Receiver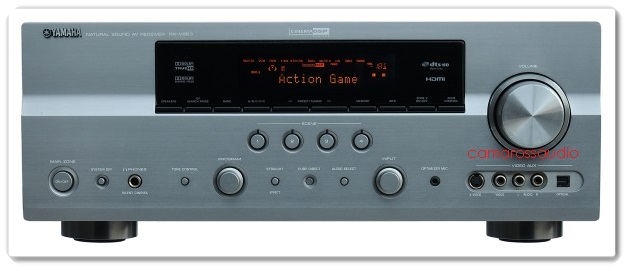 Full support for HD audio formats ensures maximum enjoyment of all high definition sources. Other advantages include full HD 1080p video upscaling with 3 HDMI inputs, HD Radio™ tuner, as well as exclusive Yamaha features such as Pure Direct,YPAO sound optimization and four SCENE buttons.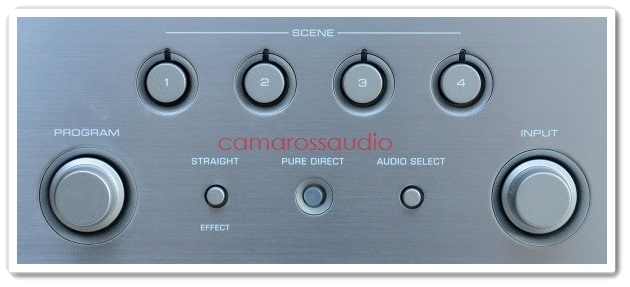 105 watts x 7 into 8 ohms (20-20,000 Hz) at 0.06% THD
Dolby® True HD, DTS-HD™ Master Audio, Dolby® Digital Plus, DTS-HD™ High Resolution Audio, Dolby® Digital EX, DTS-ES™, Pro Logic® IIx, and DTS Neo:6 decoding
improved YPAO sound optimization for more precise automatic speaker setup (microphone included)
Fine-Tuned Cinema DSP modes and Adaptive DSP level
built-in HD Radio tuner with multi-casting reception
XM Satellite Radio Ready (requires XM subscription and optional XM Mini-Tuner package)
Neural Surround decoder for XM's HD Surround channels
SIRIUS satellite radio capable (requires SIRIUS subscription and optional SiriusConnect™ home tuner kit)
iPod integration (requires optional Yamaha YDS-11)
improved Compressed Music Enhancer with multi-channel processing for MP3s and other digital music files
dual-room/dual-source audio (powered and line-level stereo audio output for 2nd room)
Digital ToP-ART design
high-current, low-impedance amplifier construction
192kHz/24-bit Burr-Brown digital-to-analog converters for all channels
Pure Direct mode for better sound from stereo sources
Silent Cinema for simulated surround sound via standard stereo headphones
40 AM/FM presets
multibrand remote
17-1/8"W x 6-3/4"H x 17-5/8"D

Connections:
1080p-compatible HDMI switching (3 in, 1 out)
selectable 480p/720p/1080i/1080p video upconversion for all non-HD sources (upconverted video available through HDMI output only)
HDMI version 1.3a with support for Deep Color, x.v.Color, 120Hz and 24HZ refresh rates, and auto lip-sync
component video switching: 3 in, 1 out
analog video conversion (composite to S-video, or composite and S-video to component)
5 audio/video inputs, including:
1 front-panel input with composite and S-video
4 rear-panel inputs with composite and S-video
3 audio-only inputs (including phono)
digital audio inputs: 4 optical (including 1 front-panel), 2 coaxial
digital audio outputs: 1 optical
7.1-channel analog audio preamp input
7.2-channel preamp output for connecting optional external amplifiers and up to 2 (mono) powered subwoofers
back surround speaker channels re-assignable for bi-amping front left and right speakers
binding post speaker terminals


High Sound Quality
HD audio format support: Dolby Digital Plus, Dolby Digital TrueHD, DTS-HD High Resolution Audio and DTS-HD Master Audio 7-channel 735W powerful surround sound (105W x 7) Digital ToP-ART and High Current Amplification Pure Direct for higher fidelity sound reproduction Burr-Brown 192kHz/24-bit DACs used in all channels Assignable amplifiers for bi-amp connection
High Picture Quality
Analog video (480i or 480p) upscaling to full HD 1080p 1080p-compatible HDMI (3 in/1 out) Supports Deep Color (up to 36 bit), x.v.Color, a double speed Refresh Rates of 120Hz and 1080p/24Hz transmission, and Auto Lip-Sync compensation Analog video to HDMI digital video upconversion and deinterlacing with TBC
Advanced Features
4 SCENE buttons offering greater operating ease (with 19 preset SCENE templates) HD Radio™ digital broadcast reception capability XM ready with XM HD Surround powered by Neural Surround SIRIUS Satellite Radio ready Improved YPAO for automatic speaker setup iPod compatibility via Yamaha Universal Dock Bluetooth (A2DP) compatibility with Yamaha Bluetooth® Wireless Audio Receiver (YBA-10) Superior multi-zone control compatibility
Surround Realism
Fine-tuned CINEMA DSP and Adaptive DSP Level Improved Compressed Music Enhancer Adaptive DRC (Dynamic Range Control)
Other Notable Features
XM ready with XM HD Surround powered by Neural Surround SIRIUS Satellite Radio ready 40-station preset tuning / Auto preset tuning HD Audio LPCM 7.1-channel reception (up to 192kHz) High dynamic power and Linear Damping Low Jitter PLL Circuitry Assignable amplifiers for bi-amp connection Initial Volume and Maximum Volume Setting iPod song titles displayed in English and Western European languages ISO 8859-1 (Latin 1) on the front panel and on-screen display Improved Compressed Music Enhancer with Straight Enhancer program Adaptive DRC (Dynamic Range Control) SILENT CINEMA and Virtual CINEMA DSP Preout terminals for front, center, surround and surround back, and dual mono subwoofer out 9 selectable subwoofer crossover frequencies Subwoofer phase select Front panel video Aux input terminals with optical digital and S-Video input terminals 8-channel or 6-channel external input Phono input Speaker A, B, A+B selection Preset remote unit with illuminated buttons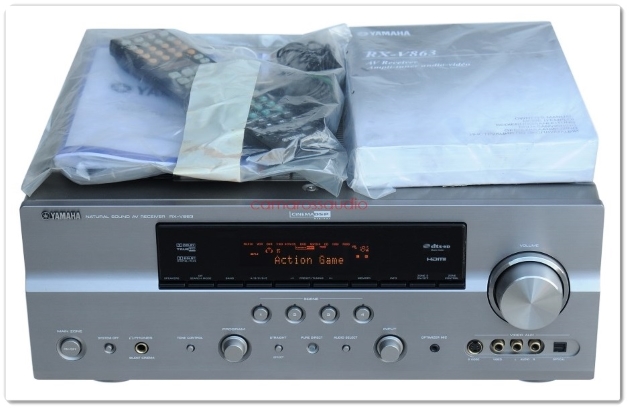 Teknik ve kozmetik olarak en küçük kusuru yoktur,
içeriği (orijinal manual-uzaktan kumanda-kalibrasyon mikrofonu-anten) eksiksiz gönderilecektir,
mağazamızda dinleyebilirsiniz.

TAKAS : EVET

Tüm Türkiye,ye YURTİÇİ KARGO ile
(Tarafımızdan profesyonelce paketlenip)
%30 indirimli-sigortalı gönderi yapılır.


Keyifli alışverişler dileriz
Please click our Logo for our other ads.
Diğer ilanlarımız için logoyu tıklayınız