All the audiophile-like transparency of New Bronze's low-distortion design regimen concentrated in the bass domain. This is New Bronze bass, deeply provisioned, authentically proportioned and dynamically fleet of foot, re-tooled from the ground up to punctuate the sound of every New Bronze system with stunningly natural bass transients, timed to perfection. The sophisticated W10 subwoofer is a New Bronze original, featuring an exclusive trinity of uprated amplifier topology, powerful DSP processing and new long-throw driver design. Advanced switch-mode power conversion techniques, custom DSP tuning and a massive power reservoir combine to generate enormous dynamic headroom from the Class D power-pack, allowing the driver to drop low and punch hard without distortion for a truly sensational deep bass experience. A down-firing 10" ABR (Auxiliary Bass Radiator) ensures that with the same compact footprint as its predecessor, the W10 delivers an incredible 6dB greater SPL at 40Hz. Choose how you enjoy the W10's prodigious bass energy with pre-set EQ settings for music, movie or impact.

TECHNOLOGY
Ultra long throw 10" driver featuring concave 'dished' C-CAM cone
10" flat panel ABR (auxiliary bass driver) mounted on the bottom to augment low frequency extension and power handling
Powerful Class-D Amplifier delivering over 200W with low distortion
Switch Mode power supply, designed to deliver high continuous rating and provides the instantaneous delivery of high current when require
DSP processing with all control features and crossover performed in the digital domain
Three pre-set EQ mode settings (Music, Movie, Impact)
12 volt trigger - provides switching control from AV amp, processor or home automation control system
18mm thick MDF construction
Heavy cabinet bracing applied to provide stiff, low resonance cabinet
Premium quality vinyl veneer finishes

SPECIFICATION
Low Frequency Limit: 30Hz
Upper Frequency Limit: 40-120Hz (Variable Low Pass filter)
Low Pass Filter Alignment: 12dB/ Octave variable + 12dB/ Octave Fixed @ 150Hz
Amplifier Output: 220W R.M.S
Amplifier Classification: Class D with Switch mode PSU
Drive Unit Complement
1 x 10" C-CAM® Long throw subwoofer driver + 1 x 10" flat panel ABR
External Dimensions: (H x W x D): 320 x 320 x 330 mm
12 5/8 x 12 5/8 x 13 inches
(364 x 320 x 364 mm
14 5/16 x 12 5/8 x 14 5/16 inches inc grille amp & feet)
Input Impedance: 20kΩ
Standby power consumption: 0.5W (ErP approved)
Mains Input Voltage: 110-120Vac - 50-60Hz
220-240Vac - 50-60Hz
Electronic auto-select
Weight: 12.9kg (28lb 6oz)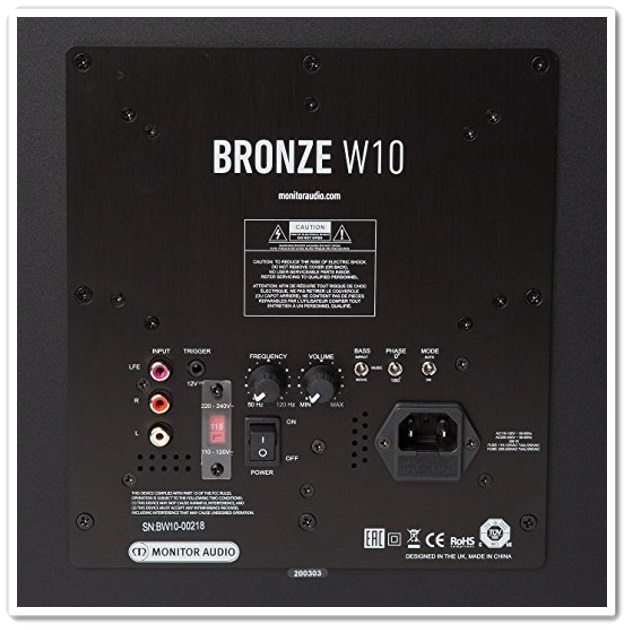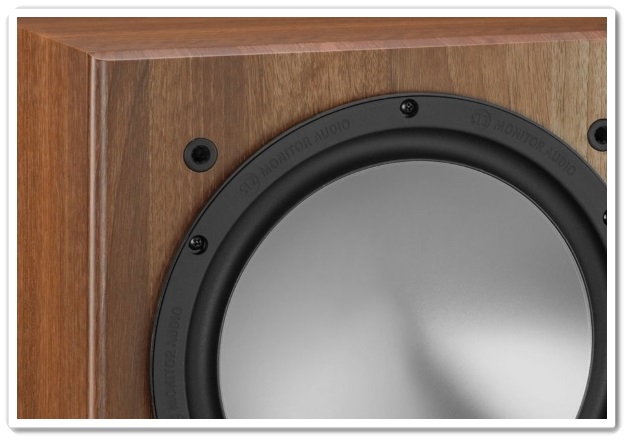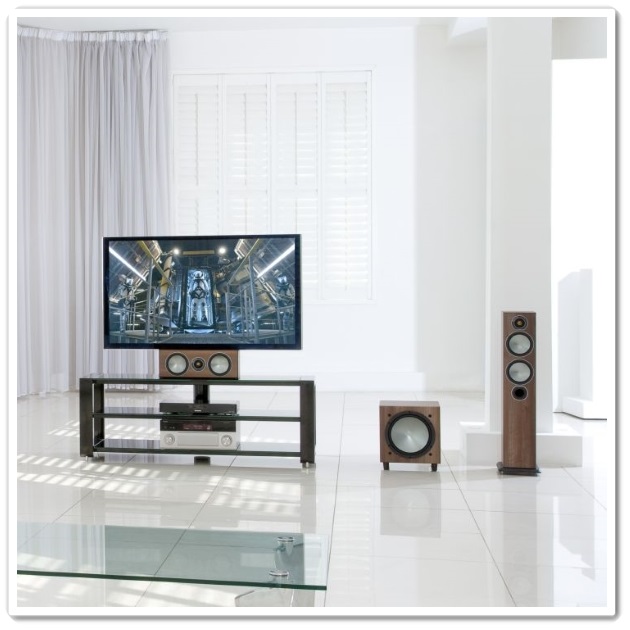 Lütfen renk seçiniz.
Kapalı kutu, adınıza faturalı,








​Yetkili satıcı
camarossaudio, Monitor Audio ürünleri yetkili satıcısıdır.
camarossaudio sisteminize ve bütçenize en uygun ve doğru Monitor Audio
ürünü seçerek size destek verebilecek tam eğitimli satış ve kurulum personeline sahiptir.
camarossaudio, Monitor Audio ürünleri için mağazasında demo hizmeti sunar, böylece satın alacağınız ürünün sisteminizle nasıl bir reaksiyon göstereceğinden emin olabilirsiniz.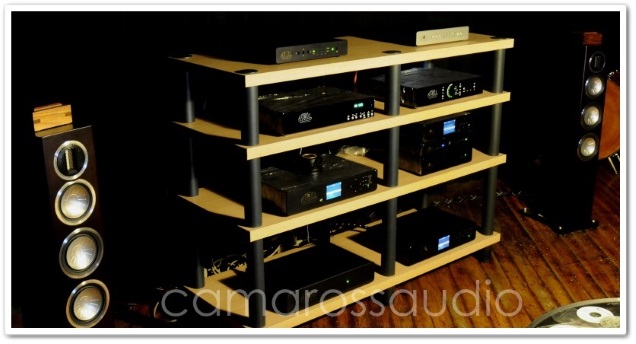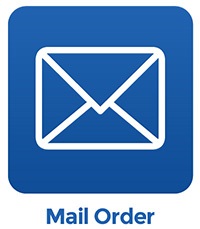 Bu ürünü tüm kredi kartları ile Mail order yöntemiyle satın alabilirsiniz.
(Taksitli)








Keyifli alışverişler dileriz
Please click our Logo for our other ads.

Diğer ilanlarımız için logoyu tıklayınız