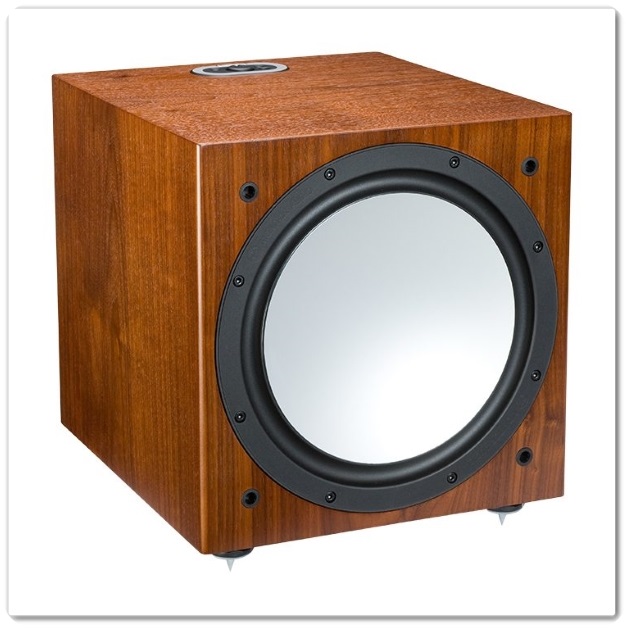 20Hz
The Monitor Audio Silver Series subwoofer delivers seismic bass right down to 22 Hz using a powerful, long throw 12-inch driver. The Silver W-12's over-specified driver assembly employs a hugely powerful magnet system and massive voice coil to deliver immense power from the compact sealed cabinet. A heavy-duty diecast basket not only holds the massive system rigidly together, but also assists thermal sinking to keep the driver cool.
For the Silver W-12 subwoofer Monitor Audio specified a 500-watt Class-D amplifier and power-supply module from highly-regarded amplifier specialist Hypex; this provides incredible headroom and utilises advanced switch-mode power conversion techniques. A powerful DSP has been employed to deliver the best performance and filter characteristics, while running the unique APC (Automatic Position Correction) system. The APC is a completely in-house development, designed to automatically correct for room modes. It uses a microphone and test tones to calculate detrimental room modes and correct frequency response, optimising it for the room and position. This is a simple and quick automated process that is a complete revelation to the installer and ensures the user can enjoy the subwoofer quality without positioning restrictions. 
At the heart of the Silver W-12 lies a sophisticated 32-bit micro-controller, monitoring performance thousands of times per second, ensuring the system can deliver the best possible bass. It will never become over-driven or distorted, even at maximum power.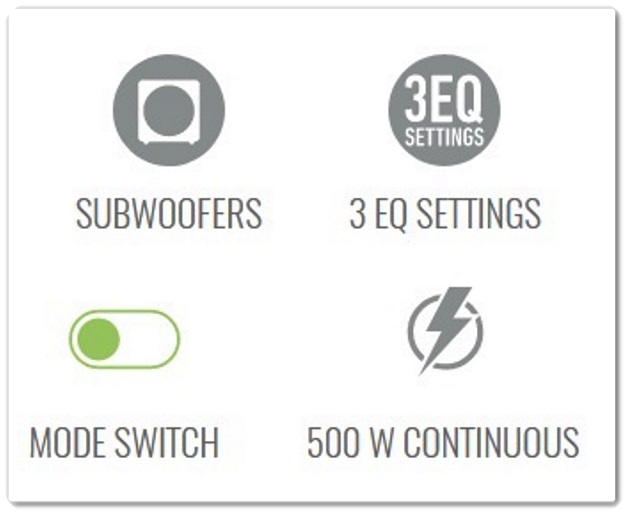 TECHNOLOGY
Ultra long-throw 12-inch driver featuring 'dished' C-CAM cone
Triple suspension for ultimate linearity ensuring control at high power and excursions
Oversized black anodised 3-inch voice coil which provides high power-handling and low distortion
Powerful 500 W RMS Class-D amplifier with switching power supply provides instantaneous delivery of high current when required
DSP processing with all control features and crossover performed digitally
Automatic Position Correction plus automatic room setup feature using microphone for simple system optimisatio
USB for firmware updates
Three preset EQ mode settings (Music, Movie, Impact)
12 V trigger provides switching control from AV amp or processor
Solid 25 mm-thick (1-inch) MDF cabinet construction
Heavy radial cabinet bracing
Top-mounted control panel and mic. input for easy access to main features
Selected premium-quality wood veneers in high-gloss lacquer and Satin White finishes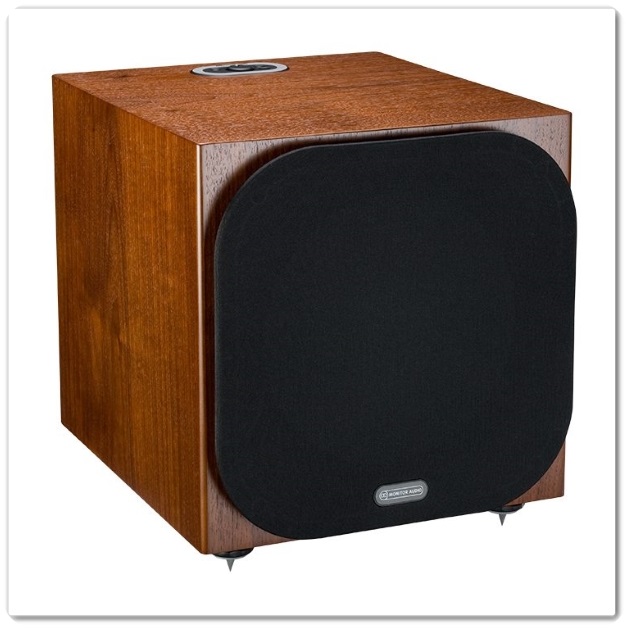 SPECIFICATION
Low Frequency Response: 20Hz (Typical IEC room)
Upper Frequency Limit: 40 - 120Hz Variable
Low Pass Filter Alignment
Active 4th order 24dB/Octave
Amplifier Power Output: 500W Continuous
Amplifier Classification: Class-D amplifier with Switch mode power supply (SMPSU)
Bass EQ Profiles: 1: Movie, 2: Music, 3: Impact
Phase Control: 0 & 81 degrees 
Auto Sensing: Line Level >2mV
Input Level Requirements
Standby after 20 minutes if no signal sensed
Driver Compliment: 1 x 12" C-CAM® sub-woofer driver featuring triple suspension and 3" long throw voice coil
12v Trigger Input
5 - 12v via 3.5mm mono mini-jack socket
Cabinet Dimensions: (H x W x D) (Excluding Grille & Amp): 340 x 340 x 380mm
Cabinet Dimensions: (H x W x D) (Including Grille, Amp & Feet): 370 x 340 x 410mm
Mains Input Voltage: 220 - 240 Vac 50/60Hz (Electronically Auto selected)
Power Consumption: 400 Watts / 0.5 Watts in Standby (ErP approved)
Individual Weight: 20.1Kg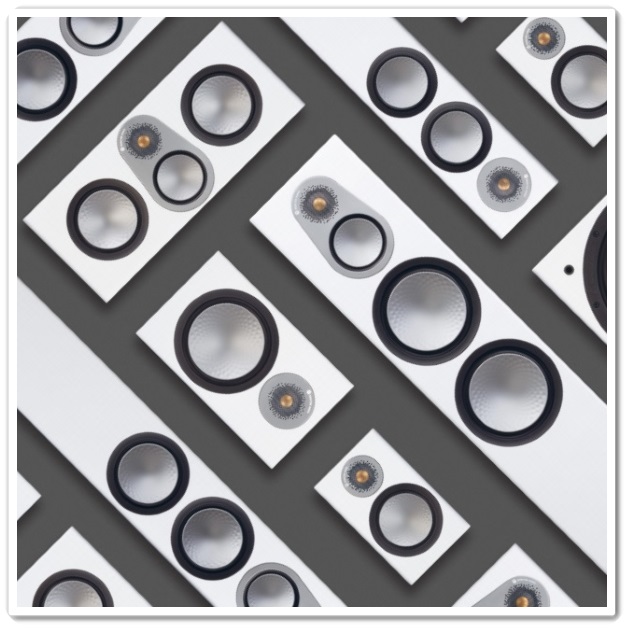 Lütfen renk seçiniz. 
Renklere göre fiyat değişkenlik gösterir. (High Gloss + 180 Euro)
Monitor audio hoparlörleri (Platinum - Gold - New 6G Silver) mağazamızda kıyaslayarak dinleyebilirsiniz.
Kapalı kutu, adınıza faturalı,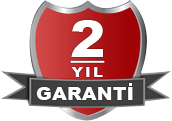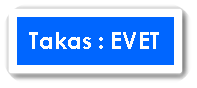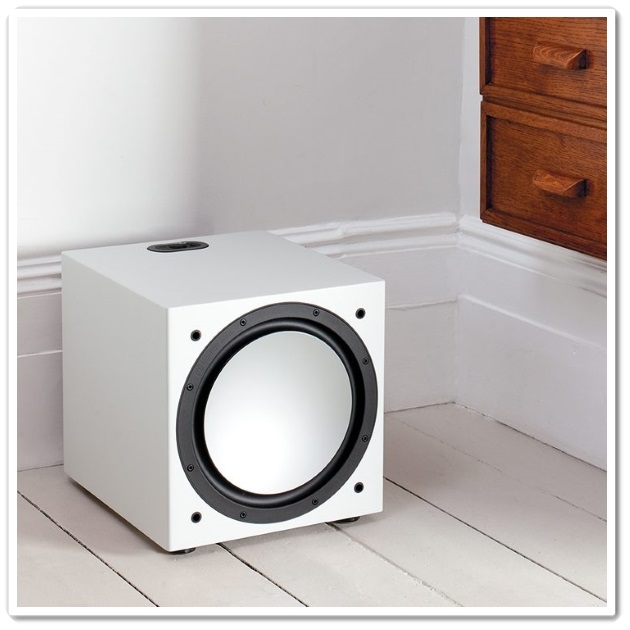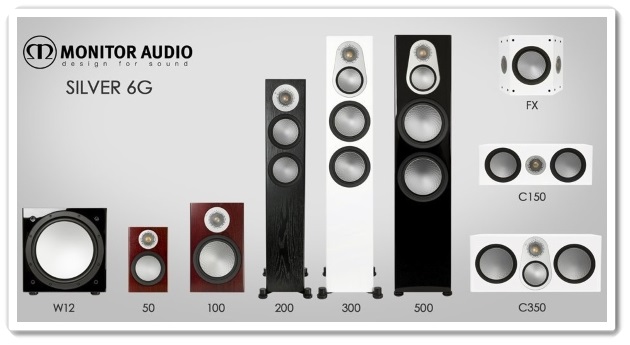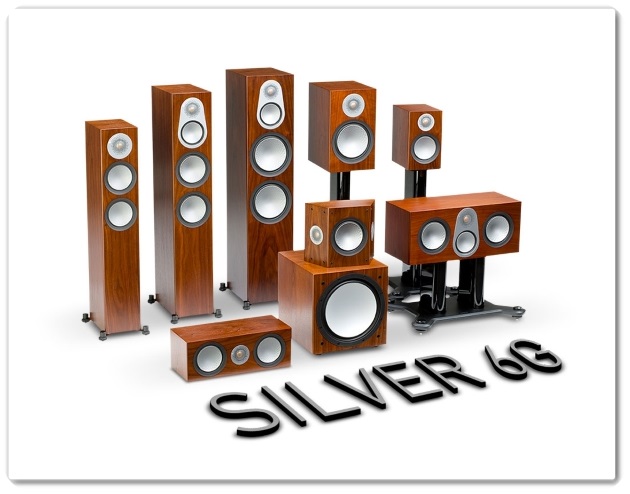 Keyifli alışverişler dileriz
Please click our Logo for our other ads.
Diğer ilanlarımız için logoyu tıklayınız