OTO LINE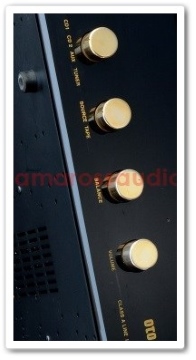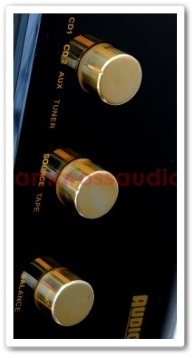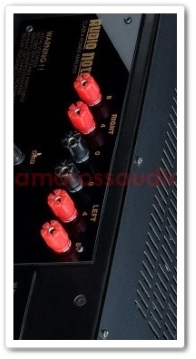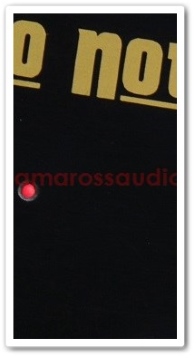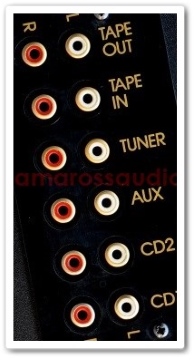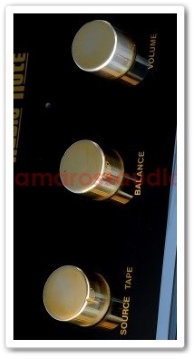 Photograps used in this ad are current and
reflect actual condition of the devices, they are not cited.
It is a Push Pull, Pure Class A valve design, offering an outstanding level of
performance and value.
It has been specifically engineered for sonic performance rather than technical
specification, and fulfills all Audio Note (UK) Level 1 criteria: -
Pure Class A Push-Pull Pentode operation
Materials and component quality
A high gain power amplifier stage is used consisting of an ECC83 dual triode acting
as an anode follower for the first stage, the output of which is applied to a second
anode follower which feeds the parallel connected EL84 output valves. This
arrangement allows for a passive line stage / volume control circuit to be
incorporated into the design.
The output transformers are custom designed and manufactured by Audio Note (UK),
and are of the highest possible quality.
The power supply is a multi element design, ensuring precise operation of each
circuit stage, whilst a DC supply feeds the low level valve filaments.
Line inputs
Four line inputs are available for connection, labeled CD1, CD2, Tuner
and Aux. Any standard ʻline level' source can be connected to these inputs.
Connect the ʻRec-Out' or ʻLine Out' sockets on your recording device
to the ʻTape In' sockets of the OTO, and the ʻTape Out' sockets to the
ʻRec-In' or ʻLine In' sockets of your recording device.
Ground Post
A ground post is provided for connection to those source components
that also use a separate ground terminal.
Speakers
Each channel is equipped with 3 colour coded binding posts for
connection to your speakers.
Looking from the front of the amplifier, the 3 binding posts to the left
are for the left channel and the 3 binding posts to the right are for the
right channel.
Connect the amplifiers black speaker output binding post marked as
"0" to the black / negative terminal (also marked " – ") on the speaker.
Connect the amplifiers red speaker output binding post marked "8
Ohm" to the red / positive terminal (also marked " + ") on the speaker.
The other red speaker output binding post is marked "4 Ohm" and
may be used with 4 Ohm speakers. If you are uncertain whether your
speaker system is specified as 4 or 8 Ohm, try the following test once
all other connections are made and the amplifier is operational.
Compare the sound quality using a familiar recording with the
speakers connected to the 8 ohm connections and then the 4 Ohm
connections respectively. The selection that produces the best
frequency balance and maximum dynamics should be used.
Input Selector
Turn the selector to the source you wish to listen to.
Source / Tape
This allows you to switch between the selected source input
and the output of your recording device.
Volume Control
This control adjusts the listening level, or loudness. Set as
desired!
Balance Control
This control adjusts the relative left/right levels. Use this control
if necessary to equalize the loudness from each speaker.
Bending in
The new amplifier requires about 200 hours of initial use (called
"bedding in") before the circuitry becomes stable and optimum
performance is realized.
As the amplifier "beds in" the sound will become increasingly
smoother, detailed and open.
Once the amplifier has "bedded in" a warm up time of
approximately 30 to 45 minutes is required each time the
amplifier is switched on before optimum sonic performance is
reached.
Cleaning
No special maintenance is required for the amplifier. Use a
soft, clean lint free cloth to remove any surface marks from the
casework. For finger marks / grease, use a soft, clean lint free
cloth, lightly moistened with a solution of warm water and mild
detergent. Do not use any alcohol or solvent based cleaning
products, as they may damage the finish of the amplifier.
ENSURE THAT THE AMPLIFIER IS SWITCHED OFF AND
DISCONNECTED FROM THE MAINS ELECTRICITY
SUPPLY BEFORE UNDERTAKING ANY CLEANING.
Valve Life
The valves supplied with your amplifier should provide
approximately 8000 hours of operation. They are specially
selected by us, and should only be replaced with matched
pairs. Please consult your Audio Note (UK) dealer should your
valves need replacing.
Teknik ve kozmetik olarak en küçük kusuru yoktur,
%100 orijinaldir,
lambalar yüksek kondisyondadır,

ilk versiyonu ve aranılan modelidir,
mağazamızda dinleyebilirsiniz.

Tüm Türkiye,ye YURTİÇİ KARGO ile
(Tarafımızdan profesyonelce paketlenip)
%30 indirimli-sigortalı gönderi yapılır.

Photograps used in this ad are current and
reflect actual condition of the devices, they are not cited.
Shipping (Fedex) is done worldwide. Please ask shipping costs.
EXCHANGE : YES

İlanda kullanılan fotograflar cihazın kendi güncel fotograflarıdır, alıntı değildir.

TAKAS : EVET
Tüm ürünlerimiz (Sıfır ve 2.el) faturalıdır.
All our sales (first and second hand) are invoiced.
Keyifli alışverişler dileriz
Please click our Logo for our other ads.
Diğer ilanlarımız için logoyu tıklayınız